Trade Agricultural Goods
Offer, Soybean meal, pro 46, non-gmo, UA
Picture: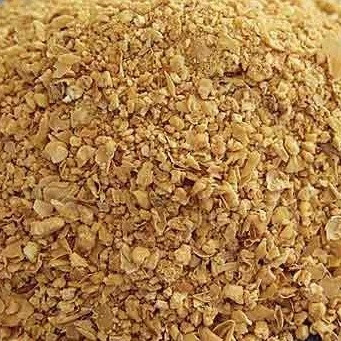 Meta Description:
Ukraine or CFR
Full Description :
In case you are looking for different commodities, destination, packing, quality please do not hesitate to contact us.
SUBJECT OF THE SOFT CORPORATE OFFER (SCO). The SELLER undertakes to supply and transfer to the RWA BUYER, and the BUYER undertakes to accept the Goods and to pay it on the terms of the present SCO. Title of goods. Notwithstanding delivery of or the passing of risk in the goods to Buyers or any rule, regulation or provision to the contrary, title of goods shall not pass to the buyers until sellers have received payment of their invoice value in full in accordance with the terms of this SCO.
Quality in accordance the following specification: SOYBEAN MEAL
mass fraction of crude protein - min.45%;
mass fraction of fat and extractive substances - max 2,5 %;
moisture and volatile matter - 10%;
ash, not soluble in 10% of HCL - 1%;
mass fraction of crude fiber - max 6%.
SOYBEAN MEAL GRANULATED
Smell and taste: Proper to soy-bean meal, without outside smell
Color: From light yellow to light brown
Diameter of granule: Length of granule 6,0-20,0; 10,0-26,0
Mass fraction of granules passed through a sieve, (2mm) less then 5,0 4,5
Mass fraction of moisture and volatile content, % 8,5 – 12,0 < 11,0
Mass fraction of fat in terms of the absolutely dry substance, % 1,5 < 1,0
Mass fraction of protein in terms of absolutely dry matter, %, not less 45,0 51,0
Mass fraction of fiber in fat-free products in terms of absolutely dry matter, % 7,0; 4,5
Urease activity (change of pH during 30 minute) 0,1 – 0,2; 0,15
Mass fraction of metal impurities,mg/kg - parts size till 2 mm included 10,0 < 10.0
Mass fraction of remaining amount of solvent, % 0.1 < 0.1
The content of impurities (stones, glass, earth) Absence
Pest contamination Absence
Genetically modified objects, % ISO 21570:2008 40-3-2 (ROUNDUP READY) MON 89788
Date of delivery corresponds to date of B/Ls.
Carriage: Shipments in 20 feet containers. 14 free days for detention and demurrage (merged) at discharge port as per shipping line rule.
Terms of payment negotiable: Prepayment, LC, CAD (Cash Against Documents) to the Seller's account against:
a) Commercial Invoice;
b) Full set of 3/3 original;
c) Certificate of Origin;
d) Quality and Quantity certificate;
e) Fumigation Certificate;
f) Phytosanitary Certificate;
g) Packing List
Quantity and Quality of goods final at place of loading as per Certificate issued by GAFTA member inspection company at the Seller's account.
All other terms, conditions and rules, not in contradiction with the above contained in GAFTA 88 and GAFTA 125 of which the parties admit that they have knowledge and notice, apply to this transaction.
Please send BID by email or form below.
Contact Person:
Mr. Sergey
Address:
1, Kanatna str., Odessa, Ukraine
Contact Phone:
+380504909004